UCalgary Fitness Centre
The Fitness Centre remains closed.
The Active Living Fitness Centre will remain closed due to budget limitations. The University of Calgary was required to abide by the provincial guidelines throughout the pandemic, which meant the Fitness Centre and other recreation facilities were required to be closed for extended periods of time. As a result, the university has not charged the campus recreation fee since the 2020 winter term. This fee supports the base funding and operations of these facilities, and is what allows the university to offer all-access membership benefits to students on campus.

Although there is no current timeline for the return of drop-in access, we are working on reopening our scheduled programs and private bookings. This includes the Aquatics Centre, Racquet Centre, Climbing facilities and more. We will be posting regular updates.
Kinesiology Complex Access and FAQs
Monday to Friday, 8 a.m. – 6 p.m.
In coordination with the University of Calgary main campus and AHS restrictions, the Fitness Centre will remain closed.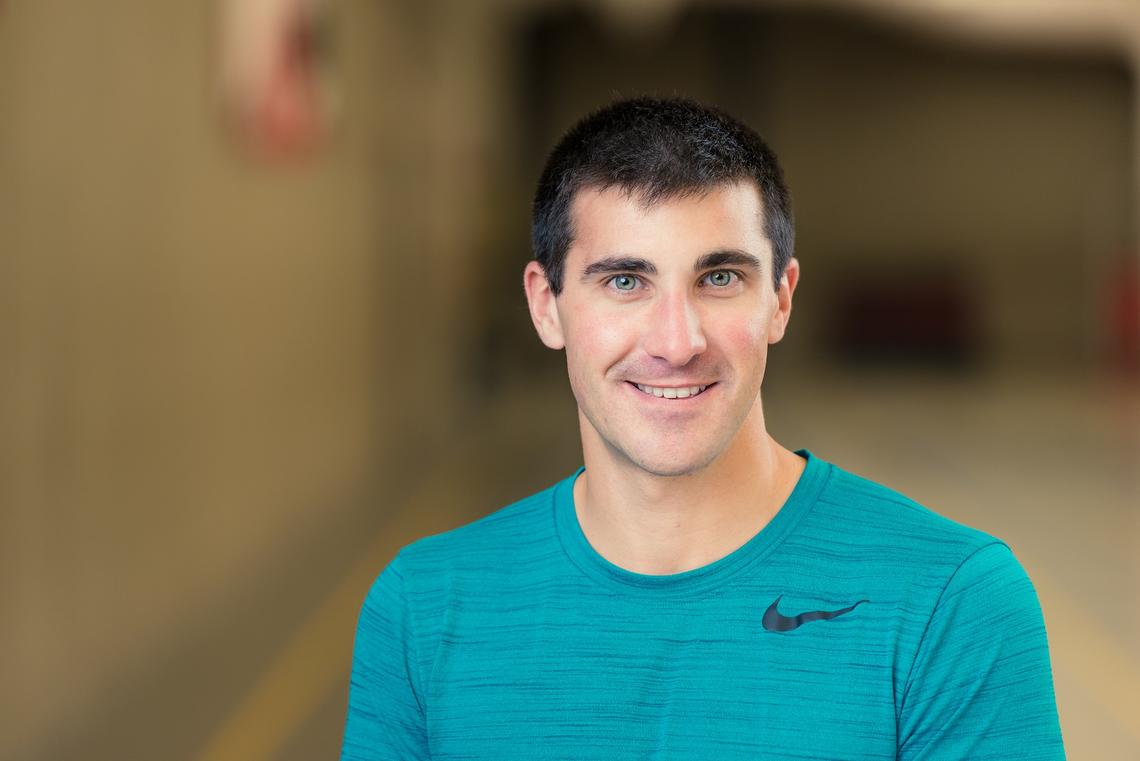 New Fitness Centre restrictions go into effect Friday, November 27
Adjusted capacity limits
Staff will actively limit the number of participants on the main floor to 35.
Upon reaching 35, staff will direct any incoming participants to the track level.
Users will remain on either the main floor OR the track level for the duration of their workout.

Enhanced masking rules
Users will be required to wear a mask at ALL TIMES while in the Fitness Centre, including while exercising
Take the following steps to make an appointment
1. Complete an online COVID-19 Membership Waiver (one-time)
On the top Active Living menu on the far right, click on "Login"
Login with your username and password
On the top Active Living – Program Registration menu, click on your name to drop down the menu
Click on "Waivers and Forms"
Under Outstanding waivers, click the "Sign" button located across from your active membership
2. Once your Membership Waiver is completed
Go to the booking page
Login with your username and password
Read the pre-requirements carefully
Search booking using the search tools on the bottom right
All available time slots for a date will be listed - click on your desired time to book
All upcoming booked sessions will be displayed in the outstanding bookings section

To cancel a booking, click on the red square next to your booking (you may cancel up to 1 hour in advance)
You may make 1 booking per day, 5 bookings per week
Bookings are available up to 7 days in advance
3. On the day of
Log into your account to complete the COVID-19 screening questionnaire. This is different from your COVID-19 Memership waiver, and needs to be completed the same day for each booking you make prior to entering the facility.
Other important booking information
Please arrive no more than five minutes before your appointment to avoid line-ups.
Bookings can be cancelled up to 1 hour in advance by logging into your Active Living account. For assistance please call the Fitness Centre desk at 403-220-5185.
You may arrive late to your start time, but your end time will remain the same to ensure staff have time to complete disinfection of the equipment. Failure to check-in or cancel a booking will result in a no-show. After three no-shows, you cannot book a spot until a penalty fee (day pass fee) is paid.
How the equipment and facility has changed
Your Fitness Centre experience may look quite different as not every piece of equipment is available.  We have rearranged some equipment to ensure distancing guidelines. Here is a summary of the changes we have made:
·   Only every 3rd or 4th piece of cardiovascular equipment will be available for use
·   Free weight and Olympic bench layout has been changed to maximize flow and distancing
·   Stretching area moved to track level and replaced with more free weight space
·   Super Circuit repurposed to a weight machine only area with no restrictions on use
*Please refrain from moving equipment around the facility as its placement is designed to comply with provincial guidelines. Review more changes in the safety guidelines section below. 
Review the new safety guidelines for each area of the Fitness Centre
Maintain 2m distancing while traveling in and around the facility
·   Go from exercise to exercise without loitering
·   Follow all directional signage and arrows
·   Yield to oncoming traffic
2m2 bubbles have been created, each with a bench
·   Keep all exercises within your marked bubble
·   Do not conduct cardiovascular-based exercises
·   When removing equipment from racks, do not loiter outside your bubble
Maintain 3m distancing in cardiovascular areas.
·   Use only cardio equipment that has not been removed from service
·   Avoid loitering between machines
Maintain 2m distancing in Weight Machine areas 
·   Most weight machines are open - please do not use a machine immediately next to one in use
·   Wash/sanitize hands frequently; as well as before and after using the gym.
o   Hand sanitizer is available throughout the centre
o   You're encouraged to carry your own hand sanitizer 
·   Exhibit good respiratory etiquette (i.e., sneezing or coughing into the crook of the elbow, no spitting, no clearing of nasal passages, coughing or sneezing into a tissue).
·   Refrain from touching your eyes, nose, mouth and face while in the gym.
Masks will be required at ALL TIMES while in the Fitness Centre
·   All users will be given a personal bottle of disinfectant and a towel upon entry to be carried with them throughout their workout
·   You will be REQUIRED to clean all equipment before and after using
·   Spray towel (15-20 times to soak) and wipe equipment
o   This is more effective than spraying the machine and then wiping
·   Return the bottle after your workout (for disinfection) and discard your towel in the laundry
What is no longer available
The following fitness areas are closed: 
Fitness and Rehabilitation Area
Cycle Centre
Running Track
·   Closed for running/jogging at this time – partitions have been placed to denote restricted areas
·   The equipment areas adjacent to the stairs and in the catwalk remain open and available for use
The following equipment and amenities are not available 
You are encouraged to bring your own small equipment as long as it's visibly clean. Due to the difficulty of ensuring a proper clean, these pieces of equipment will not be available for use at this time:
o   Foam rollers/rumble rollers/myofascial release balls
o   Weight chains
o   Ankle/leg cable attachments
o   Tricep ropes
o   Dip belts
o   Lifting belts
o   Lifting gloves/wraps
o   Resistance bands/tubing/theraband/band loops
o   Skip ropes
o   Ab wheels
o   Bar pads
o   TRX
o   Battle ropes
Larger Equipment
o   Rowers
o   Steppers
o   AMTs
 
The following pieces will also not be available due to significant air disruption
o   Rowing ergometers
o   Pedestal fans
Water Fountains
·   Water fountains will be closed; water bottle filling stations open
·   Bring your own water bottle - you are encouraged to label it with your name
·   Please do not spit into the water fountain
Locker rooms and Changerooms
·   Locker rooms and changerooms will remain closed until further notice
·   You are asked to come changed and ready to workout·  
Keep your gear with you. You may bring a bag to store your clothes and carry it with you throughout your workout. Please keep it with you at all times close to your machine or in your designated workout area. Please do not leave valuables unattended.
Please note that you are still asked to come in closed toed running shoes and exercise attire consisting of a top and bottom that adequately covers all private areas.  Participants are not allowed to work out in jeans.
Lost and Found
·   We will no longer be keeping a lost and found for lost items – please ensure all of your belongings leave the centre with you
Towel Service
·   Towel service will not be offered until further notice
Magazine Racks
·   Shared magazines will be not be available
·   Spotting services will no longer be provided by staff
o   Users are encouraged to form small cohorts if lifting heavy
·   Staff will be continually circulating, educating members on our new guidelines
o   We understand this is new for you – if you are educated by one of our staff members, please remember that we are working to keep everyone safe
·   Transportation to and from activities should be arranged so that only cohort members, or members from the same household, share rides.
·   Users are encouraged to limit their time spent in the facility and to maintain physical distance
What you need for your visit at a glance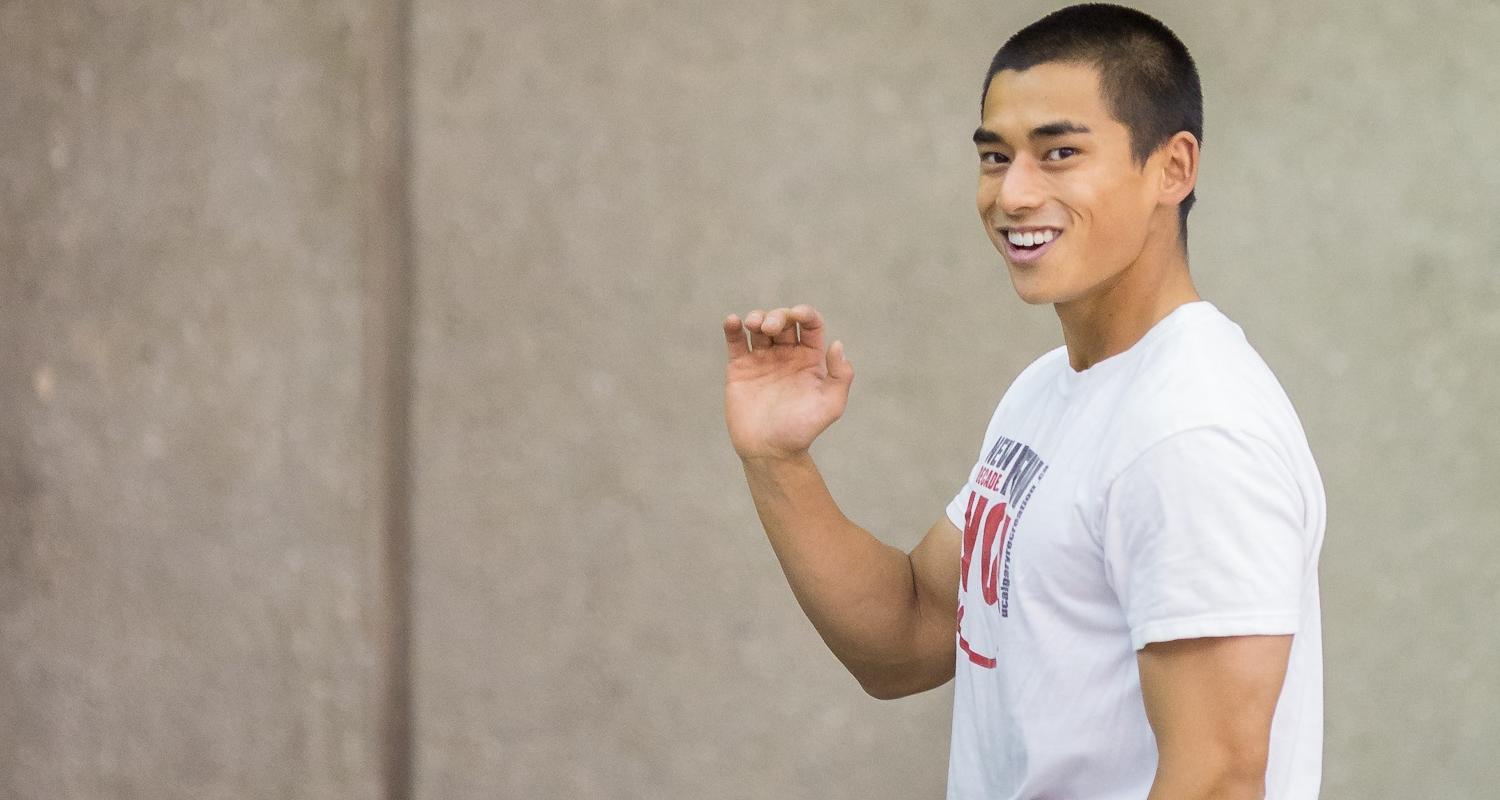 Checklist
What you will need for a visit to the Fitness Centre. 
Fill out your waiver (one time) Make a booking Complete the online pre-screen before your booking, the day-of Change into your workout attire before you come - change rooms are closed Bring: A mask - you will be required to wear a mask at ALL TIMES while in the Fitness Centre, including while exercising A filled water bottle - fountains are closed, bottle fillers are available for refills Your UCID card A small bag to store your stuff Any small equipment you need in the gym including a sweat towel
The University of Calgary Fitness Centre offers many programs and services designed to encourage healthy participation in a variety of activities. The goal for the Fitness Centre is to provide an opportunity for participants to improve or maintain their health and vitality through activities and programs.
Access to the Fitness Centre is included in both the All Access membership and Fitness Centre membership options.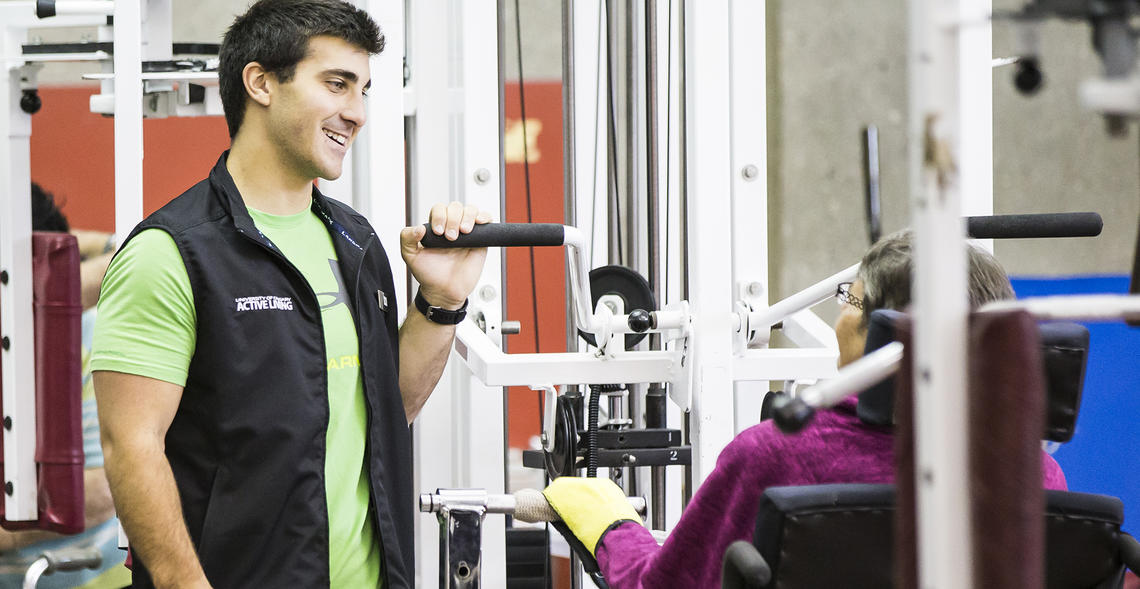 With over 3750m2 of space, the Fitness Centre has something for everyone, including:

Equipment
A wide range of cardio equipment, weight machines and free weight equipment
Running track
6 lane, 240m running track
Circuit training area
Upstairs super circuit and separate area with functional training equipment
Wheelchair access
A variety of wheelchair accessible equipment, with an elevator to the second floor
In addition, the Fitness Centre has a number of programs: personal and small group training, rehabilitation fitness classes, and other favourites such as yoga and spin classes. Our friendly staff are always available to answer questions or help make your Fitness Centre experience the best it can be.
Personal Training
Our friendly certified trainers are ready to help build a fitness plan that fits you. 
Discounted rates for UCalgary students and Active Living members.
Group Fitness
Find a class to suit what moves you. We offer group fitness, yoga, fitness rehabilitation, weight management programs and more.
Programs are open to the general public.
Your ABC's when coming to the Fitness Centre
Appropriate footwear
Please bring clean, close-toed indoor shoes
Bags are permitted
You can now bring a small bag to keep with you as the Fitness Centre change room and lockers are not available at this time. 
UCID card
Scan your University of Calgary ID card at the Fitness Centre entrance to gain access.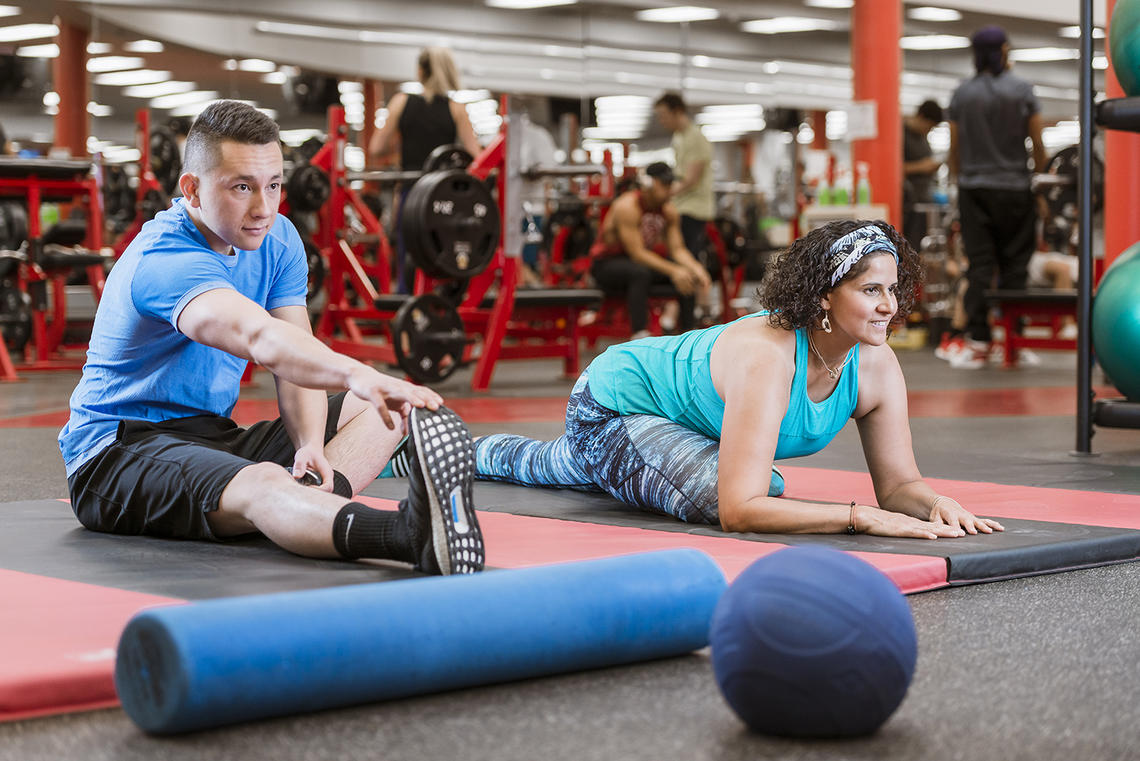 Fitness Centre Hours
T: 403.220.5185
FALL & WINTER
Monday – Friday
8:00 am – 6:00 pm
Saturday - Sunday
Closed
Holidays
In coordination with the University of Calgary main campus, the Fitness Centre will be closed from 6 p.m. on December 22 until 8 a.m. on January 4, 2021.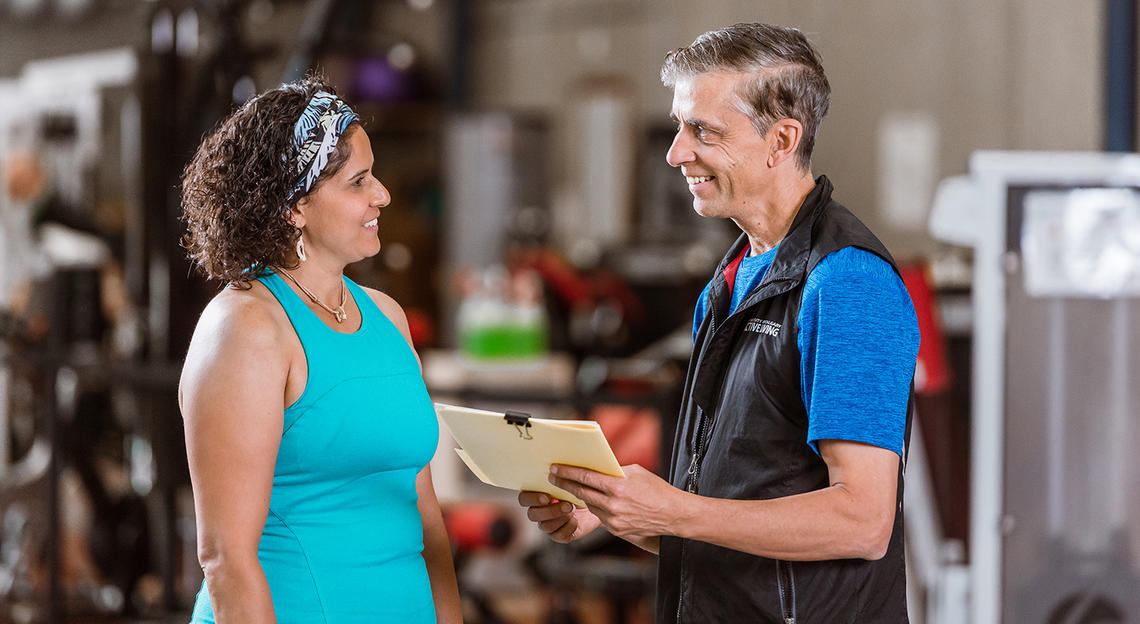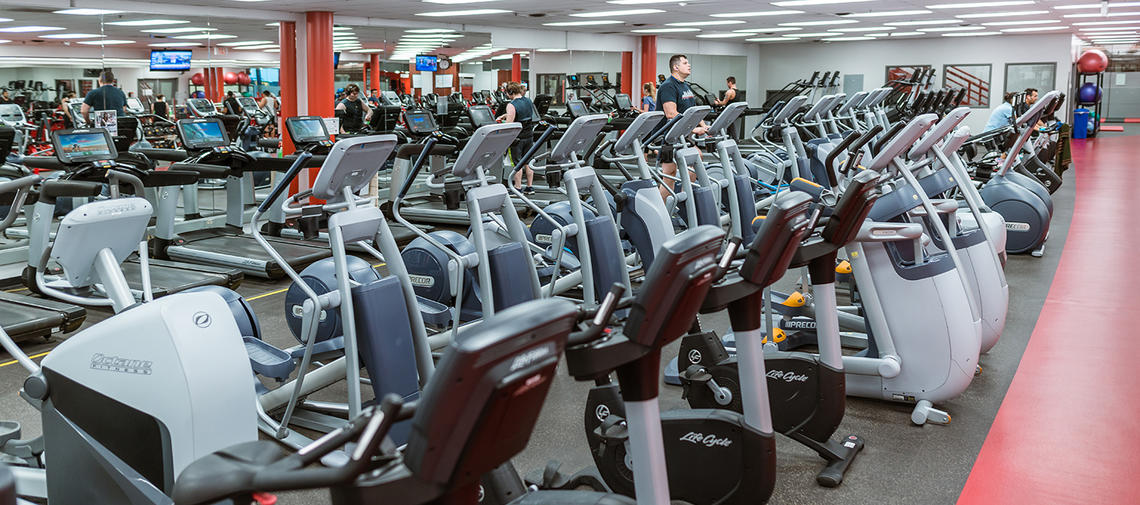 At this time, Orientations are not available to users without a Fitness Centre booking due to occupancy requirements.
Never been to the Fitness Centre but want to see what it's all about? Thinking about beginning an exercise program but don't know where to start? Kick the year off with confidence by attending one of our FREE gym orientations.
During the weekday orientations, our team will introduce you to the Fitness Centre basics and answer any questions you may have. Get a guided tour of all the equipment and programs we have to offer and learn tips, tricks and etiquette on how to become gym-savvy.
Appropriately distanced gym orientations are available on-demand, for any Fitness Centre user with a current booking.  Please see any Fitness Centre staff member for details.  *Please note that a mask is required to be worn during the orientation*.