"So glad to be able to attend Yoga Flow in person once again.  Felt very safe knowing that all protocols are being observed:  small class size, sanitizers for each student, and specific areas to arrange our mats.  Besides being able to practice with a great instructor (Rose), communication from Active Living about what to expect from face-to-face classes during the pandemic was timely, clear and very comprehensive.  Excellent job under very unusual and challenging circumstances!" 
Heather Smith, Yoga student
There's a fitness class for everyone at UCalgary Active Living. Every class is led by professional instructors who are ready to welcome participants of any skill level. Workouts can be adapted to beginners, or amped up for the fitness junkies.
Most of all, we want you to enjoy yourself and have fun while finding a fitness fit you love. Working out shouldn't be a punishment!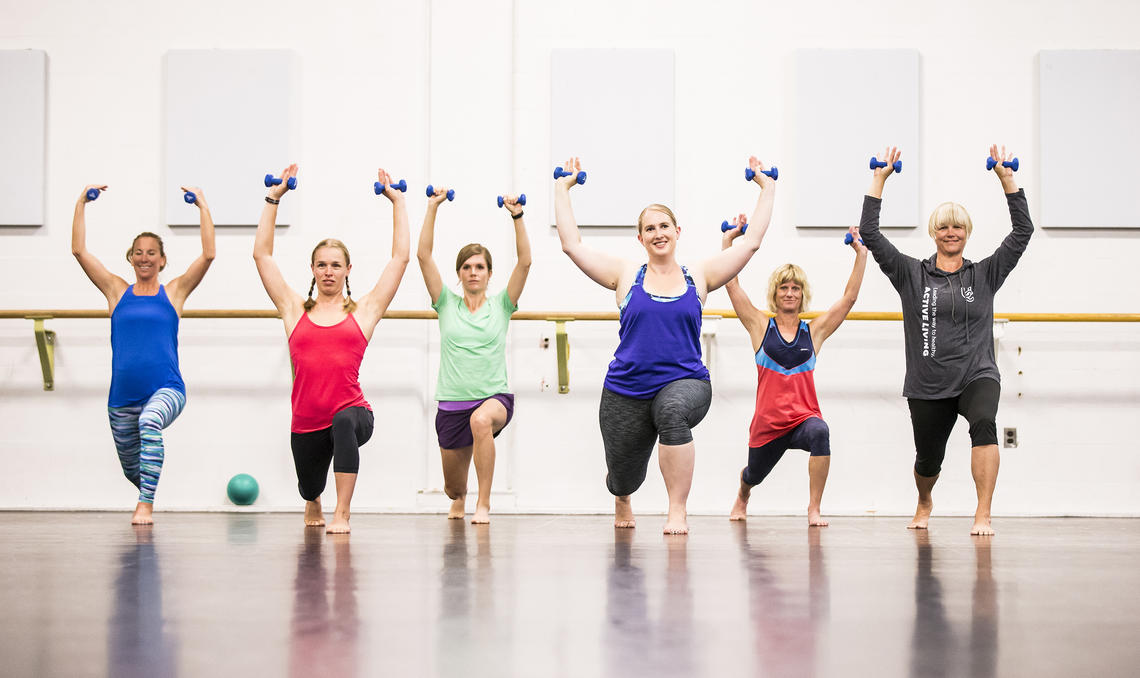 Group Fitness Classes
No classes on stat holidays
"I am enjoying Keep Moving very much! The instructor has carefully explained the new protocols and they seem sensible and carefully thought out. I am grateful that active living courses have resumed. Thank you for this!"
Joanne Black, fitness class participant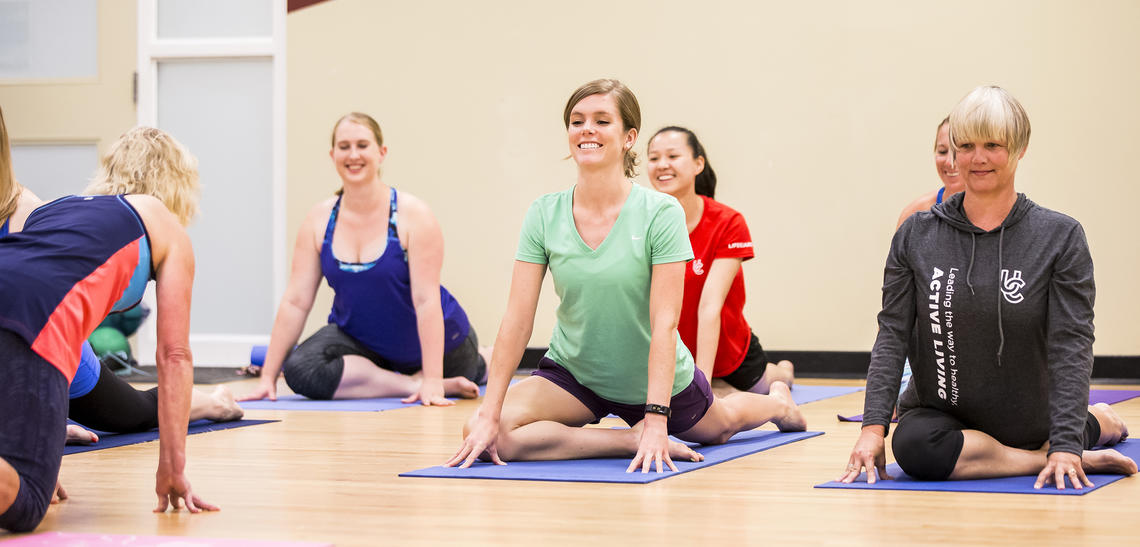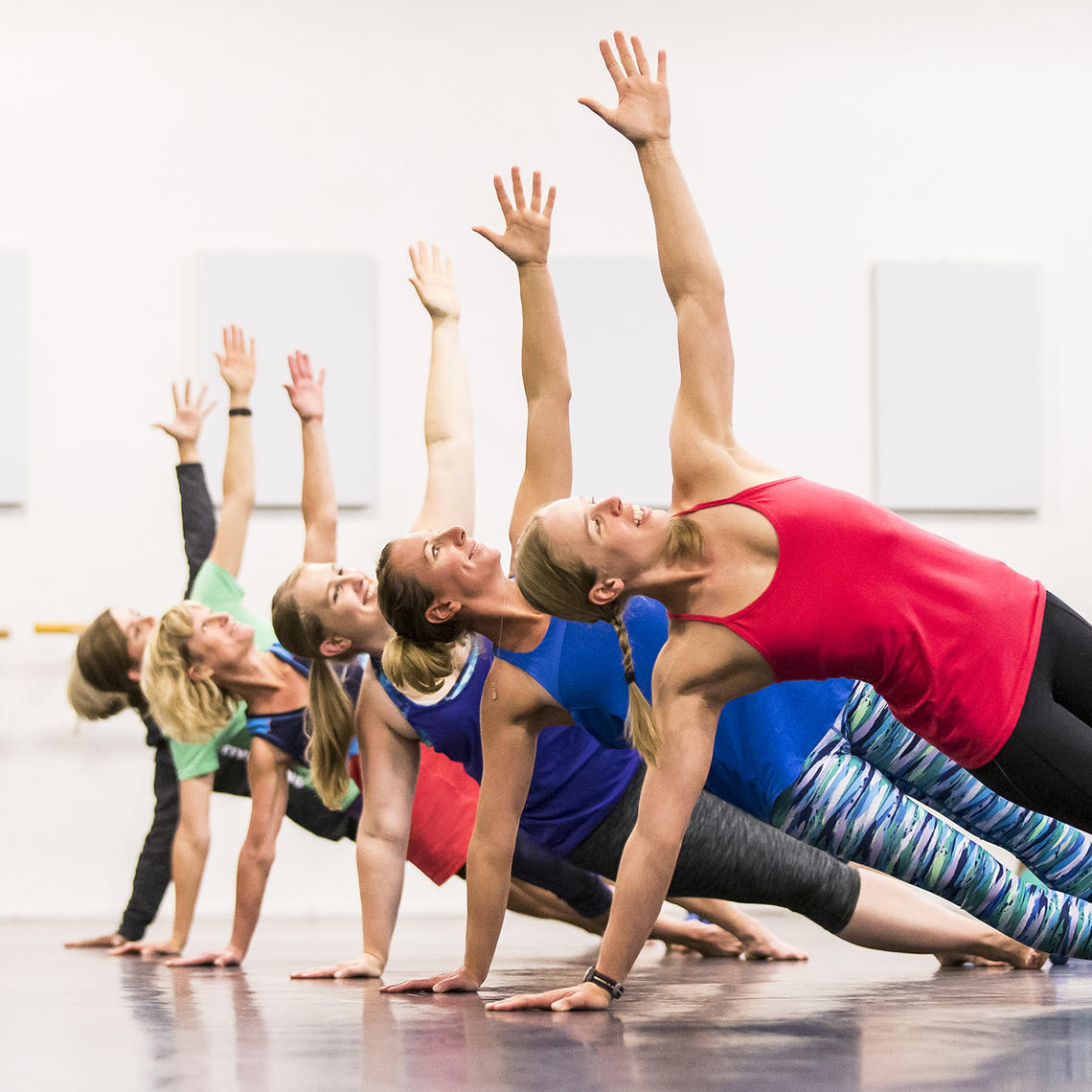 "I've deeply missed the fitness classes that were interrupted by the lockdown last spring. Returning to Rose's Yoga Flow class has been fantastic. Rose is, as always, a terrific teacher, but the protocols that have been introduced are also impressive and reassuring. Thank you Campus Rec!"
Adrienne Kertzer, Yoga student
Yoga Flow
This dynamic flow class incorporates traditional sun salutations and yoga poses while allowing for more varied practice. You'll focus on breath, building full body strength, core stability, flexibility, and proper body alignment. Options will be given for all levels, from beginners to those looking for more challenge.
Yin Yoga
*Coming Soon: Fall 2022*
A highly beneficial practice that is available to all ages, body types and levels, Yin Yoga targets the yin tissues including the joints, connective tissues, bones and fascia within the body. A relaxed practice of floor postures that can be held from three to five minutes, the primary emphasis is on the hips and spine. Experience a more introspective journey with a focus on what the posture feels like rather than what it looks like. This class will also have a focus on breathwork, meditation and mindfulness.
"I am so grateful to be back in a class at UCalgary (even if it is just one!). Working out on your own just isn't as much fun and the instructor is so great. I appreciate all that you and others are doing to bring classes back to us. The protocols that are in place work very well and I feel very safe."
Valerie Alexander, fitness class participant
Small Group Training
Get motivated and get results with the help of a personal trainer and a small group with similar goals. Experience the variety, constant supervision and support associated with Personal Training along with the added benefit of social interaction.
Staff Only - Noon Group
For University of Calgary staff only.
Learn, lift, sweat, repeat. In this staff-only class you will learn the ins-and-outs of weightlifting including: technique, progressions/ modifications, and injury prevention, all alongside your fellow staff members! If you love group classes and you want to try something new in a safe, supervised session, then this option is for you.

Each session is 50 minutes in length and includes direction from one of our certified personal trainers.
Learn-to-Lift
Learn lifting technique, proper form, injury prevention, and more over three weeks in a small-group workshop! With a limited number of people in class, our certified personal trainer will guide you through the basics of lifting by focusing on technique, form and safety. Expect instruction on the core lifts, including: squats, deadlifts, lunges, bench press, overhead press and rows while using barbells, dumbbells, and other equipment.
Beginner Workshop:

This workshop is for beginner lifters looking to learn technique, increase confidence and improve form!
Intermediate Workshop:

This workshop is for intermediate lifters looking to perfect their technique and try new progressions in a safe, trainer lead environment.