Meet the trainers
All of our personal trainers would be happy to meet with you and build a program to suit your needs.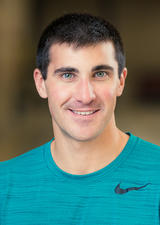 Nick Lapointe, CSEP- CEP (Clinical Exercise Physiologist)
Nick's passion for performance and understanding how the human body functions led him to pursue his Bachelor of Physical and Health Education, which he completed at Laurentian University in 2014. He then furthered his education at Niagara College where he obtained his Post-Graduate Certificate in Exercise Science for Health and Performance. Nick is a Certified Exercise Physiologist and he enjoys working with just about every type of client, from high performance athletes to individuals with chronic conditions.
His athletic focus was primarily swimming as he was a competitive swimmer for 15 years. He now works full-time with the University of Calgary Swim Club as a Swim Coach and Strength and Conditioning Coach, in addition to personal training.
Nick enjoys staying active by lifting weights, hiking, snowboarding, and golfing. He also loves to travel and explore new places. He even speaks fluent French!
Nick truly believes that exercise is medicine. Whether it be for injury prevention, rehabilitation, general fitness, or sport performance, everyone can benefit from some additional physical activity!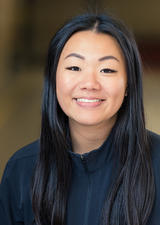 Tiffany Tse, MSc, Bkin, CSEP-CPT (Certified Personal Trainer)
Tiffany completed a Masters of Science in Kinesiology and Health Studies in the field of Sport Psychology specifically looking at women coaches at Queen's University. There she was a teaching assistant in a variety of courses ranging from disability studies to social determinants of health. 
Tiffany became a Certified Personal Trainer with the Canadian Society for Exercise Physiology during her third year as an undergraduate student at the University of Calgary where she obtained her Bachelor of Kinesiology in Pedagogy. Tiffany is also an NCCP certified Run, Jump, Throw coach. She enjoys working with all populations, from general population, elite athletes, and older adults, to individuals with chronic conditions/disabilities. She has worked as a strength coach for the Junior Dinos swim team, teaches fitness classes, personal trains one on one and in pairs as well as trains those looking to complete occupational fitness testing.
Tiffany believes that physical activity can be and should be catered to every individual. No one way of physical activity is better than the other. Exercises are meant to be adaptable and functional for all individuals and she hopes to foster a joy of physical activity in others. 
Outside of work, you can find Tiffany spending time with family and friends, biking, boxing, hiking, weightlifting, travelling, or trying new restaurants. Tiffany is also semi-fluent in Cantonese and dabbles in Thai and Mandarin.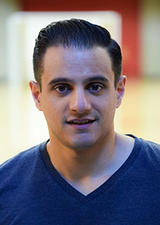 Garry Bassi, CSCS (Certified Strength & Conditioning Specialist), NCCP-1 Olympic Lifting Coach
Garry's athletic endeavors growing up included hockey and soccer, but he primarily focused on the martial art of Hap Ki Do, which placed a heavy emphasis on fitness and discipline.
During high school and University, Garry became increasingly interested in weight training and bodybuilding. This love of the weight room eventually led him to switch majors in University. Garry graduated with a BSc in Kinesiology from the University of Calgary in 2013. During his degree, Garry had the opportunity to complete a two-semester strength practicum under the direction of Matt Jordan. This experience allowed Garry to gain knowledge and coaching experience under Matt, and other strength and conditioning coaches at the Canadian Sport Institute. This practicum inspired Garry to pursue a career in strength coaching and personal training.
Since graduating, Garry has worked with a multitude of sports teams and athletes. Namely, Team China long track speed skating, which provided Garry the opportunity to travel to the 2018 Winter Olympics and multiple World Cups. Garry has also worked with University of Calgary Dinos teams, including women's hockey and wrestling.
Garry is also passionate about assisting the general population in their fitness endeavors. He believes that the principles and methods used in training high performance athletes crossover to the general population, and vice versa. Garry firmly believes that everyone should perform regular strength and power training, as it can greatly improve quality of life and longevity.
As a trainer, Garry specializes in teaching compound strength exercises and Olympic lifts, with an emphasis on form and safety. He is also very interested and knowledgeable in nutrition, as well as rehabilitation, for both athletic and general populations. On top of being a Certified Strength and Conditioning Specialist, he is also an NCCP Level 1 trained Olympic weightlifting coach.
These days, outside of the weight room, Garry's passions lie in snowboarding, road biking and most recently, skateboarding.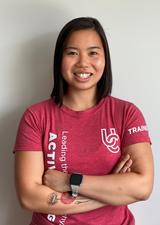 Claudia Lai, BKin, CSEP-CPT (Certified Personal Trainer)
Claudia's passion for coaching health and fitness led her to pursue her Bachelor of Kinesiology in Leadership in Pedagogy and Coaching at the University of Calgary. As her enthusiasm for the weight room continued to grow, she became a Certified Personal Trainer with the Canadian Society of Exercise Physiology in the third year of her undergraduate degree. During the summer of 2019, Claudia's interest in Strength and Conditioning matured when she had the opportunity to intern at two sports performance facilities in Calgary. Claudia has been working as a Personal Trainer since 2018 and gained expertise in functional movement, athletic training, and weight loss.
Claudia focuses on intentional movements in the weight room. With a background in taekwondo and powerlifting, she saw benefits in her athletic performance when she discovered the value of movement with a purpose. Claudia sometimes jokes that the gym is her second home. She is fluent in Cantonese and knows Japanese. Some other activities that she currently enjoys climbing, hiking, running, and Olympic lifting.
As a Personal Trainer, Claudia defines success as being able to help someone move free of pain, having an athlete or client stay consistent with their training, and improving any deficits an athlete or client presents to help them perform better or feel better.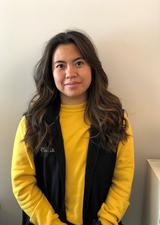 Catherine Vu, Bkin, BCR, CSEP-CEP (Clinical Exercise Physiologist)
Catherine's journey into the world of exercise and wellness started at 15 years old after being introduced to the concept of Physical Literacy at her job as a camp leader. Inspired by supporting others to become more physically active and feel more confident, Catherine studied and received a Bachelor's in Community Rehabilitation and Disability Studies, as well as a Bachelor's in Kinesiology at the University of Calgary. Afterwards, Catherine went on to get her Clinical Exercise Physiologist certification from the Canadian Society of Exercise Physiology.
Through her time with Medisys, Between Friends Clubs, Adapted Physical Activity Kids, and Peak Power Sport Development, Catherine has worked with diverse populations in various contexts. She believes that everyone deserves excellent coaching and programming, regardless of age or ability. Whoever she works with, Catherine works from a person-centered approach through inquiry and collaboration.
Catherine enjoys trying and learning new activities, such as disc golf, gymnastics, and ice skating. Did you know that she learned to ice skate at the age of 24? Outside of the gym, Catherine enjoys hanging out with her dog, keeping her plants alive, and knitting.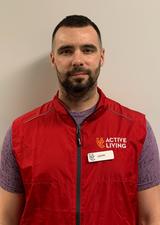 Justin Rempel, CSEP-CPT (Certified Personal Trainer)
Justin Rempel is a CSEP-CPT with over 8 years of experience in the field. He is the Coordinator and Lead Instructor of his own Parkinson's Disease Exercise Program (PWR!Moves), and has experience working in a medical setting with other Physicians, Psychologists, Dieticians, etc. His niche is working with older populations, Parkinson's Disease, injury prevention, and overall health and wellness. He is also passionate about his own training for Mixed Martial Arts, Hockey, & Archery. 
He believes that we can achieve an optimal level of physical & mental health through individualized exercise programs and dietary habits.  He believes that prioritizing our health and well-being will enhance the chances of avoiding injuries, disease, and mental health disorders.
Justin also runs his own Microgreens business in the city of Calgary, AB, and he also plays a variety of instruments and records/releases his own Music.