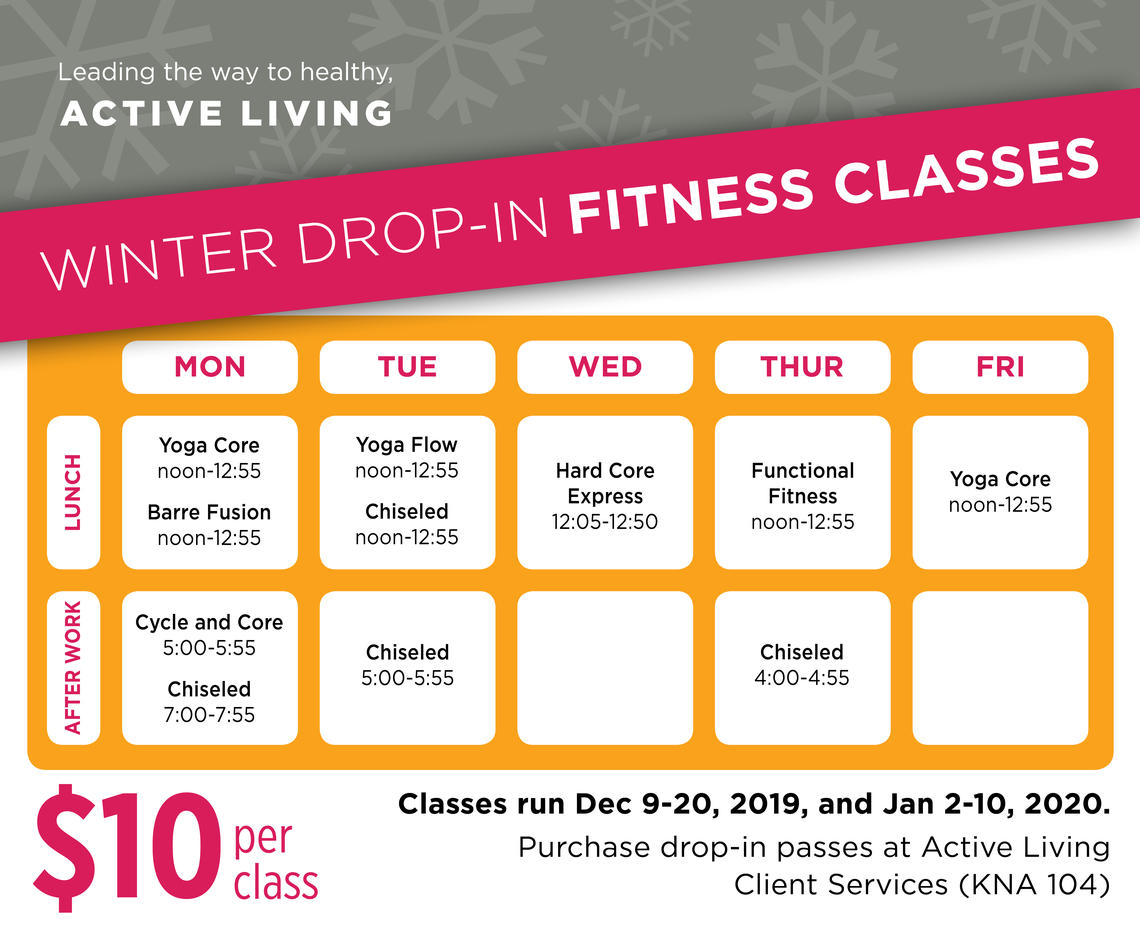 Winter Break Drop-In Fitness Classes
December 9-20, 2019  |  January 2-10, 2020
Barre Fusion (without the Barre)  
This energizing class will challenge your core strength and muscle endurance while leaving you with long lean legs and defined arms and back. Barre Fusion combines elements of Pilates, core conditioning, classical ballet and resistance training. Through a variety of blended exercises you will develop strength, muscle tone, coordination, body awareness and flexibility while promoting proper posture, joint flexibility and lumbo pelvic stability. You will definitely work in this class!
Mon | noon-12:55pm | Fitness Studio - KNA 172 | Stephanie
Chiseled
Build your strength, endurance and definition using bars, plates and free weights in this effective group weight training program. The weight room comes into the studio to transform your body using all major muscle groups. Focus is on technique, precision and getting you results!
Mon | 7:00pm-7:55pm | Fitness Studio - KNA 172 | Nancy
Tue | noon-12:55pm | Fitness Studio - KNA 172 | Annie
Tue | 5:00pm-5:55pm | Fitness Studio - KNA 172 | Shawna
Thu | 4:00pm-4:55pm | Fitness Studio - KNA 172 | Annie
Cycle and Core
Combine the power and energy of indoor cycling with an inner focus on core stability. After a challenging 40 minute ride, a core conditioning component will improve posture, balance and stability.
Mon | 5:00pm-5:55pm | Cycle Centre - Fitness Centre upper level | Nancy
Functional Fitness
Designed for those looking for a low impact, moderately paced class. In this full-body workout, you will improve strength, endurance and your ability to move efficiently through function resistance training, body awareness and core strength. Suitable for all fitness levels.
Thu | noon-12:55pm | Fitness Studio - KNA 172 | Dan
Hard Core Express
This functional workout is designed to strengthen and tone your core. Bodyweight, free weights, stability balls, flex bands and more will be used to strengthen the muscles, including abs, back and pelvis. The focus will be on proper form and safely pushing your personal limits.
Wed | 12:05pm-12:50pm | Fitness Studio - KNA 172 | Stephanie
Yoga Flow
This dynamic vinyasa style class incorporates traditional sun salutations and yoga poses while allowing for more varied practice. You'll focus on breath, building full body strength, core stability, flexibility, and proper body alignment. Options will be given for all levels, from beginners to those looking for more challenge.
Tue | noon-12:55pm | Multipurpose Studio - KNA 162 | Rose
Yoga Core
A creative fusion of vinyasa flow yoga and core strengthening exercises. Strengthen your center inside and out.
Mon | noon-12:55pm | Multipurpose Studio - KNA 162 | Pam
Fri | noon-12:55pm | Multipurpose Studio - KNA 162 | Pam